iPad Accessory Casio EcoLite Projector
Casio XJ-V1 Environmental and Cost saving projector
Having a portable projector is always plus for business or leisure. Let's have some scenarios, when you are holding a party at a cheaper chalet for a birthday, in a motel with your partner, someone who is constantly travelling and simply wants to save office space and rental space.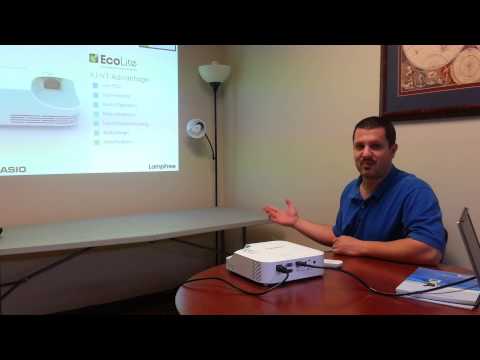 What makes Casio XJ-V1 the best companion with the iPad or any ios products?
Its lampfree laser and led hybrid
The new technology is more power efficient, durable and better colour quality than the traditional lamp projector. Laser and led technology simply makes the images sharper and more colourful.
The most cost efficient projector
It only uses up to 120 watts per hour which has a 50% lower power consumption than the average projector, this saves electricity bills and the environment.
Flexibility of screen size
It has a flexible projection size from 60 inches to 80 inches. This presentation to be held seamlessly in any places, ranging from a presentation room to a class room to a convention hall.
Wireless is the way to go for a newer generation, cordless phones, wifi laptops and iphone toys. It's quite a disturbing sight to have wires all around at business presentations and talks. Going wireless saves the hassle and time or bringing along all the wires and setting up the plugs. Simply bring the set and charger, you are good to go.
Light weight and portable
Light and small is the desired look for all newer products. Dimensions are 10.6 x 10.6 x 3.5 inches , 6.2 pounds
Lampfree projectors do away with the poisonous mercury of the traditional projectors. Mecury causes rivers, lands and sea to be poisonous thereby harming the living things in such environment. When we accidentally consume them, we might be poisoned too.
The engineers and designer added some curves to the projector to make it look nicer and different from the other available ones.